Princess Urban Fashion Statement game
Follow us on Facebook and Youtube: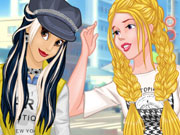 Description: Princess Urban Fashion Statement
Life in the city is boiling and it seems that sometimes it does not have time. This is especially true of fashion. With the new season or year, the fashion changes very much and in a month or two it can be replaced, that the people around are already dressing up in a new style. And what about our favorite princesses! After all, they have a very rich life and they have the same feeling that they missed the new fashion. In this game, the princess of urban fashion, you can help the princesses Jasmine, Aurora, and Cinderella change their wardrobe and create a new trendy look. As the game begins, you can choose each of the princesses and begin to change her image creating from it a real princess of urban fashion. By the way, in the game, you can try yourself in a graffiti contest. The princesses will participate in it and you can see which of them will win.
I remind you that the
princess dress up games
section does not stand still and new dressings have appeared in it. Be sure to look there and see what we have prepared for you new.