Barbie Knight Princess game
Follow us on Facebook and Youtube: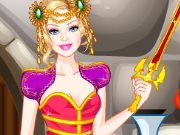 Description: Barbie Knight Princess
Barbie is very modern and beautiful girl. She looks good in any outfit. In addition she is always ready to try yourself in any role. This time she participates in a tale about knights. Barbie will be the Princess knights!
How to play:
in this dress you should try to choose a cool outfit for our beauty and make Barbie knight.Use mouse to carry dresses, jewelry on her. There is an excellent four versions of the outfit. Can repeat them all, and can come up with a new itself.
What dress to wear if Barbie in her hands a dagger or sword? The outfit must be feminine enough and a girl needs to be like the Princess of the knights.