Princesses Talk Show VIP game
Follow us on Facebook and Youtube: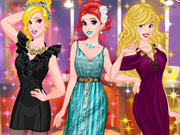 Description: Princesses Talk Show VIP
Princess Cinderella, Ariel, and Aurora are invited to the show as VIP guests! This is very honorable and responsible. After all, they will be watched by millions of fans and millions of viewers of the show. There will be noisy and fun! So in this game, the Princess would have to pick up a dress according to your style and can create a new one. Let's help the beautiful girl to look stylish and elegant. Do not forget about makeup and hairstyles. After all, if some part of the outfit is chosen carelessly, then the whole outfit would look ridiculous, and the mood of a Princess will generally be spoiled. Use the mouse to give each of the princesses outfit invented by you!
I think that this and other
fun dress up games
you liked, and then we raised you up and now you smile and rejoice that visited our site.