Bonnie Oktoberfest Makeover game
Follow us on Facebook and Youtube: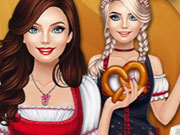 Description: Bonnie Oktoberfest Makeover
Autumn came, and October came after it. So, it's time for the harvest festival. This festival was first held in Germany and now has great fame among beer lovers. But this is not the main thing. The main fun atmosphere felt by everyone who comes to this festival. This year and Bonnie decided to visit this festival to see what it is. Let's see what she would like to wear to this fun event.
Girls, in this dress up game you will be able to take part in the selection of dress for the noisy Oktoberfest. Help Bonnie decide and be dressed in the style of this festival.