Princess 24 Hour Fashion Diva game
Follow us on Facebook and Youtube: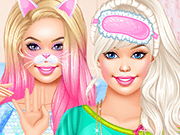 Description: Princess 24 Hour Fashion Diva
Being a princess is not an easy task. After all, your fans are watching you. But what if the princess opens an account on a social network? Then she will also have to sparkle with her beauty and surprise subscribers. In this game, you can help our heroine to be always beautiful and fashionable. To do this, she needs to approach the mirror several times a day to update her makeup or straighten her hair. In addition, you need to follow the outfits. After all, who will wear the clothes that you put on in the morning for lunch. And what can we say about parties where you need to wear bright dresses, rich makeup and choose special decorations in order to be the best of all guests. In this game, you will have to try to create the best makeup and choose the appropriate dresses for our fashionable princess.