Fashion World Diva game
Follow us on Facebook and Youtube: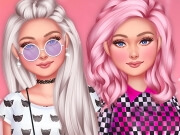 Description: Fashion World Diva
You know how difficult it is to be a popular diva! So much attention to you. You need to be special, fashionable and even coolest. This girl fits that description perfectly. Although she is still too young, she is well versed in modern fashion. In this dress up game you will meet the most fashionable diva in the world. She loves to choose different outfits for each occasion, and also wants to help everyone become more fashionable and cooler. Therefore, let's work with her on the choice of outfits for various occasions. It is an outfit for hipster, school party, college, and cyberpunk streetwear. As you can see, this dress up game has a lot to do and practice in choosing outfits. In addition, at the end of the game, you will also receive a great fun makeup for these outfits.
How to play:
Choose outfits in various styles for this fashion diva. Use your experience to help the girl choose all four styles of outfit, as well as fashionable makeup and jewelry.