How do you Boo Lagoona Blue game
Follow us on Facebook and Youtube: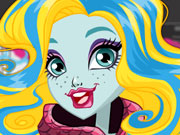 Description: How do you Boo Lagoona Blue
If you played Monster High games, then you probably know Blue Lagoon. Beauty and optimist. She loves surfing and meeting new people. In addition, she is very glad that she got into Monster High School. But besides that, she misses her family from the depths of the sea and would really like to see them. In this game, you can help Laguna Blue to create beautiful outfits, then take a photo and send it to the family of the girl. She thinks it will be a great gift to her dad and mom. Give her a helping hand and help the girl create such an outfit. After all, she is very passionate about studying and preparing for lessons.
If you really liked the game, then visit the section
Monster High dress up games
. There you will find a lot of beautiful and vivid games with dolls from the School of Monsters. Have a great time play 'How do you Boo Lagoona Blue' dress up game for girls.