Freaky Fusion Lagoonafire game
Follow us on Facebook and Youtube: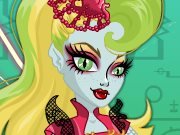 Description: Freaky Fusion Lagoonafire
It is a new student at Monster High. It turned out after visiting the workshop of a scientist. As a result of some magic spells girls Laguna Blue and Dzhinafaer Long turned a new girl like them! It Lagunafaer! See how it looks cool. I think it will be a great girlfriend all the girls from Monster High.
How to play:
is a cool and fun Dress the girl Lagurafaer. You can choose her hair, dress, jewelry, shoes. How do you like the new image and a girl? Better than its creators?
Played: 58635. Added: 9-11-2015, 23:16.
Play other games from this developer:
StarSue.net
. Categories:
Monster high