Ballerina Ghouls Cleo de Nile game
Follow us on Facebook and Youtube: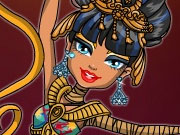 Description: Ballerina Ghouls Cleo de Nile
The famous Cleo de Nile of Monster High decided to become a ballerina. And she may not be the best dancer, but she loves dancing very much and especially watching how ballet dancers dance. In this game of Cleo de Nile Ballerina, you can help Cleo create a cool dress in which she will dance like a real ballerina. Of course, Cleo is not going to wear an ordinary white outfit, and she has already collected a whole wardrobe of clothes that she would like to wear. See what interesting things she has in her closet and create the coolest outfit for the best ballerina from Monster High.
Like all
monster high dress up games
, here you will find beautiful dresses and great music that will lift your spirits.