Clawdeen Wolf - How do you Boo? game
Follow us on Facebook and Youtube: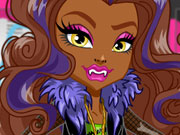 Description: Clawdeen Wolf - How do you Boo?
Claudine Wolfe, like all female students,
Monster High
already had a great rest during the summer and missed her study friends. She is waiting for the day when they will meet and tell how they spent their summer. This moment gives them a lot of joy and everyone is waiting to find out more details about each other's rest. Let's see how the beautiful Clawdeen Wolf has changed and refresh her outfit with a pair of new dresses, hairstyle or jewelry. And maybe you will make a completely new image for a girl?
Use the mouse to click on the buttons in the game and create outfits for our beloved vampire from Monster High.