Princesses Message Tees game
Follow us on Facebook and Youtube: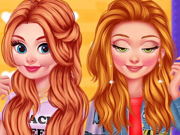 Description: Princesses Message Tees
Wearing T-shirts is really cool and fun. Truth? When we meet someone, almost everyone pays attention to the inscriptions on them. On the shirt may be written some kind of funny inscription and even a little offensive for someone. But the princesses do not want anyone to harm and wish their t-shirts inspire people and they smile when they pay attention to the inscriptions and drawings. In this dress up game, princesses will prepare for the new academic semester and want to choose new bright t-shirts for themselves. Help them decide which t-shirt and label to choose. Choose each of the princesses in turn, and then pick up T-shirts, skirts, dresses, hairstyles, and jewelry.