Tik Tok Djs game
Follow us on Facebook and Youtube: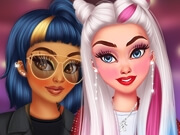 Description: Tik Tok Djs
Tik Tok is very popular now and few people do not know or were fond of watching these short and funny videos. Today there are so many stars of this social network that it is sometimes difficult to remember all of their names. Therefore, it is not so easy today to stay at the top of the best and attract attention to yourself. In this dress up game, you will see four girls who remind you of the princesses you know who love making Tik Tok videos. And the most important thing is that they are doing it very well and the girls take leading positions in the ranking. Today they have another video release and they need to pick up cool outfits for filming. Let's see what outfits suit them the most and create an even more modern look for Tik Tok DJ stars.