My Cosy Blanket Design game
Follow us on Facebook and Youtube: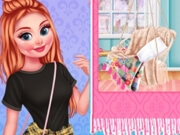 Description: My Cosy Blanket Design
Autumn has come, which means that it will certainly get cold and it's time to think about a cozy warm armchair with a blanket. After all, how convenient and pleasant it is to wrap yourself up under such a warm blanket with a cup of hot drink and enjoy the pleasant moment when it is already cold outside. The heroines of our game just want to prepare properly. Therefore, they got together and decided to come up with their own blanket design, which will give them so many positive emotions! And of course, do not forget about the outfit. After all, these women of fashion always love to be perfect in everything. In this dress up game, you can choose not only a blanket design but also choose hairstyles, makeup, and clothes in which girls will enjoy the result of their work.
Take part in this interesting lesson, and also see what ideas you can use for yourself at home.