Barbie's Glam Ball Makeup game
Follow us on Facebook and Youtube: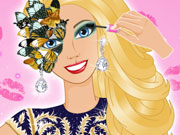 Description: Barbie's Glam Ball Makeup
Wow! What great news! Tomorrow will be a ball and pretty Barbie is invited. This news is very pleased with our beautiful and now she's in a good mood. But at the same time, she realizes that she is not the chosen dress and hairstyle. How to be? Barbie is confused and is waiting for your help. Let's respond to her request and do it because it's a great game and it is created for you girls! First, she needs to choose the right makeup. The ball will be very cheery and bright, so choose colorful and juicy makeup. Then you can think about the dress. Open the wardrobe of a Princess and you will see some gorgeous dresses. In addition, you need to think about hair. As always the hair of our heroine looks lush and well-groomed. Therefore, they will have no problems. Then take the jewelry and shoes. I like this game very much and I'm happy to play it again. And you?
And if you love
fun dress up games
, then be sure to use the link and see what games are still available on our website.