Disney Princess Tandem game
Follow us on Facebook and Youtube: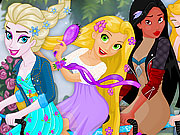 Description: Disney Princess Tandem
Wonderful dress up game about the Disney princesses who are tired from daily worries and school. They wanted to hang out and discuss the latest news that happened in the Kingdom of Disney. Also this is an excellent opportunity to relax and choose new dresses and outfits.
Use the mouse to select each Princess separately, and then to pick up these beauties to beautiful outfits for vacation.