Ballerina dress up game game
Follow us on Facebook and Youtube: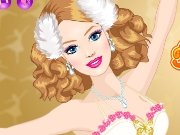 Description: Ballerina dress up game
Look at this beautiful and graceful girl. She is beautiful, slim and dances incredibly graceful. All this she got from her ballet lessons. Today she has a new premiere and she should look very nice and fresh.
So, join Ballerina dress up game and grab dresses, decorations and jewelry with the mouse to try them on the ballerina. Perhaps this performance will be the most beautiful in her life. After all, you will choose her best outfit!
Played: 131553. Added: 16-05-2014, 05:39.
Play other games from this developer:
zizigames.com
. Categories:
Dress Up