Modern hippie game
Follow us on Facebook and Youtube: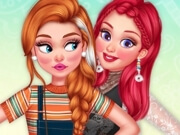 Description: Modern hippie
Everyone has known for a long time that fashion tends to come back. These girls have noticed this long ago and are waiting for the code for hippie clothes to return. And it looks like hippies are about to be in trend. Therefore, our four heroines of the game decided now to pick up outfits in this style. They are attracted by the rich selection of patterns, rich colors, and ethnic motifs in the images that are obtained by those who wear hippie-style outfits. In this dress up game, you can choose each girl in line and start choosing makeup for them. Then there is a large selection of dresses, skirts, and blouses in this cool style. And at the end of the game, you can see all the girls together in the images you created. I think you will have a great selection of outfits and you can save the picture to show your friends.