The girls at the cars show game
Follow us on Facebook and Youtube: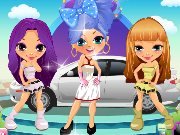 Description: The girls at the cars show
Do you like cars and shows? Then you will definitely like the cars show! There will be a nice, loud music and a lot of new and modern cars! You can take photos near each of them. Certainly you won't go there on your own, you will go there with your friends. They have already taken care of their dresses, but you still have to think about what to dress there. In this dress up game there is a button on the left and the right. Click on them with the mouse and see how girl's appearances change. Additionally, you can choose the car and the background picture. It will be the coolest photo! Is that right?
The girls at the cars show game walkthrough: