Style My Jeans game
Follow us on Facebook and Youtube: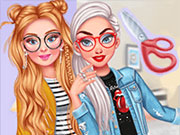 Description: Style My Jeans
It is now very fashionable to wear jeans. But who wants to just wear jeans without jewelry? In this game, you can help these two princesses choose a jeans design to your taste. You are waiting for three types of jeans, ten colors, a sea of jewelry, types of scuffs and belts. As soon as you are done with jeans, you will have a choice of hairstyles, blouses, handbags and other jewelry. It's stupid to just change jeans! Need to change the whole image! Follow these steps for both girls and see the final result at the end of the game.