The dress for the beach game
Follow us on Facebook and Youtube: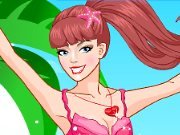 Description: The dress for the beach
On the street only 10 o'clock in the morning, and the sun heats the air. It's time to dip in the cool sea. But this fashionista is not ready yet. She needed a new outfit for the holiday. Let's help her and see what clothes are her best.
How to play:
in this dress you will be able to help the girl to choose a bathing suit for your beach holiday. The mouse move all the clothes and jewellery on the girl and watch as she transformed.
The dress for the beach game walkthrough: