My Perfect Rainy Day Look game
Follow us on Facebook and Youtube: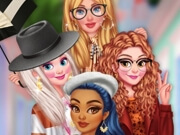 Description: My Perfect Rainy Day Look
On a rainy day, it's not so nice and wet if you're not ready for it. But if you follow the weather forecast and be ready for it, then this weather turns into sheer pleasure. After all, how nice it is to walk down the street in a fine drizzling rain if you have an umbrella in your hands and you have not forgotten to wear clothes for such weather! In this dress up game, you will meet four beautiful princesses who love any weather, including when it rains. They have some cool outfits in their wardrobe for this occasion. Let's see together what each of them holds in the locker for this occasion. Use your imagination and personal experience when choosing umbrellas, warm boots, raincoats, hats, scarves, and other comfortable things for such weather!