Dream Careers for Princesses game
Follow us on Facebook and Youtube: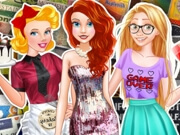 Description: Dream Careers for Princesses
Have you already thought about who you want to become in the future? The princesses Cinderella, Ariel, and Rapunzel have already decided and are striving to realize their dreams. Princess Cinderella wants to open her own sweet shop and make delicious confectionery and cakes. Ariel dreams of becoming the most famous supermodel, and Rapunzel dreams of becoming a fashion designer in the future. I think they made a great choice. In this dress up game, our task is to come up with outfits in which our beloved princesses will feel great when they start doing what they love.
Choose each of the princesses in turn and start choosing an image for them in which the girls will best fit the chosen field of activity. In the game, you can choose makeup, hairstyle, dress, special items, and jewelry that will be useful for their favorite activity.