Briar Beauty Epic Winter dress up game
Follow us on Facebook and Youtube: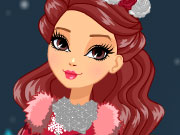 Description: Briar Beauty Epic Winter dress up
Crystal Winter's Father, the Snow King, is under a spell. He threatens the entire planet with the coming of eternal winter anywhere in the world. Therefore, Crystal Winter and her friends must travel to snow castles to save the day. In this dress up game, you can help Briar Beauty choose new outfits to visit each new castle. Let's help this girl get a lot of pleasure from visiting each new castle.
Use your imagination and buttons in the game to create a beautiful and stylish look for the beautiful Briar Beauty from Epic Winter.