Darling Charming Dress Up game
Follow us on Facebook and Youtube: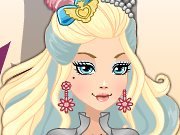 Description: Darling Charming Dress Up
If you are not familiar with this girl, let's get acquainted. Her name is Darling Charming. And she is a true daughter of king Charming. This beautiful Princess lives with Rosabella Beauty. They get along well and love to learn in school. Darling looks very aggressive girl, but inside she wants to show everyone how much she loves nature and perform miracles. For example, when it waves hair, the whole world stops around. This ability is very helpful in her life.
How to play:
this game-dress up the Princess from Ever After High. She would like to transform and waiting for your help in this. What do you think will you be able to help her? Look how many beautiful dresses and jewelry she has. Note the large selection of hairstyles and hair color in this game. What would you advise to wear today?
Darling Charming Dress Up game walkthrough: