Dark Queen Closet game
Follow us on Facebook and Youtube: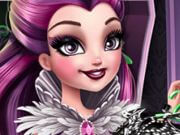 Description: Dark Queen Closet
Meet Raven Queen, also known as the Dark Queen. She is the daughter of the Evil Queen and is a student at Ever After High. This sweet girl is still a rebel, which means that you can expect anything from her and you should not stand in her way at this moment! Raven loves her mother very much, but does not want to follow her path, and also wants to do everything herself and as she wants. She is a very impulsive student and she always does not have enough time to decide what to wear for school today. Help her figure it out. But remember that Raven is in a great hurry and you must hurry. Otherwise, our heroine of the game will get angry and refuse your help.
Give her a special outfit worthy of a young princess named The Dark Queen!