Monster High Ear Doctor game
Follow us on Facebook and Youtube: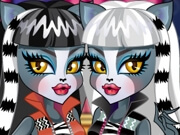 Description: Monster High Ear Doctor
These two beauties from Monster High School, Purrsephone and Meowlody, are best friends and are rarely seen separately. In fact, a very beautiful couple. Isn't it? In this game, you will learn the story that led our beauties to the ear doctor. And everything was like that. At Monster High School, teachers organized a trip to nature. This is a very cool idea, but also a big responsibility for teachers. After all, children are often carried away and can scatter in all directions, and even worse get lost. This is what happened to our girls. They lagged behind the group and wandered into some area where there are many toads and leeches. It's also dirty. Of course, it's a swamp! Soon the teachers found them and the girls were very happy about it. But later they found out that they had an infection in their ears and now the girls need to visit an ear doctor. It is very good if you help them and stay this doctor for a while.
How to play
: First, select one of the girls, and then examine the ears. You will have all the tools and tips you need to do this. Clean your ears from mucus, bacteria, remove all pimples. Then do the same for the second girl. After that, to cheer up the students, pick up new beautiful outfits for them and send them to school.