Year Round Fashionista: Elsa game
Follow us on Facebook and Youtube: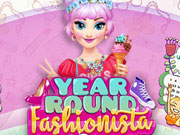 Description: Year Round Fashionista: Elsa
Elsa advanced girl. She has a mobile, there is a video blog, and she is also well versed in fashion. Today she decided to make a video about how she chooses an outfit for every month of the year. It will be a great show, but this will require a lot of effort. Help this beautiful Princess to choose an outfit for each month of the following year. Use all your talent and come up with great outfits for the cold winter, beautiful spring, warm summer and yellow in autumn. Create a unique look for each month so that Elsa refused to agree with your choice.