Tik Tok Stars game
Follow us on Facebook and Youtube: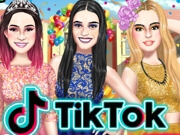 Description: Tik Tok Stars
The social network TikTok is probably not popular now, and most likely it will remain so for a very long time. There are so many talented bloggers out there that you can spend many hours relaxing and having fun on this network. In this dress-up game, you will meet famous blogger girls from TikTok. Perhaps you know them, or maybe not, then you can search for them on the Internet and guess their names. But in this game, they are waiting for you to help you prepare for the party. These three girls need help finding makeup, hairstyles, and decorations for a big fan party. And of course, they need your advice in choosing a dress and jewelry. After all, what star doesn't want to be confident in her outfit with a large number of viewers?
How To Play
: Help the girls choose cool outfits, hairstyles, and decorations for the big TikTok star party.