Chibi Selena Gomez game
Follow us on Facebook and Youtube: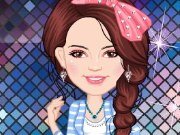 Description: Chibi Selena Gomez
Help the Hollywood and pop super star to become a chibi super star! Selena Gomez decided to take a little break and try herself as a chibi. Perhaps here she will also be a star? Can you help her with this? Try to choose the correct and suitable dress, hair and jewelry for her. When finished, click on the Show button to see what you got. Try to choose different outfits for different backgrounds of the game.