Jacob Werewolf game
Follow us on Facebook and Youtube: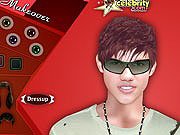 Description: Jacob Werewolf
Jacob Black, also known as Jake is the character of the popular movie "Twilight". Jake is a werewolf, he has incredible power, when turns into a wolf. And after the second series of the "Twilight" release Jacob became the idol of millions of girls around the world. In this online game you need to choose Jake's style to charm Bella.
How to play the game "Jacob Werewolf":
You will need a mouse. Create a new style for Jake, put on a fashionable T-shirt, jeans, shoes and accessories. You can also change the color of the skin and eyes, hairstyle and dye his hair in any color you want.
Enjoy the game!
Played: 37332. Added: 9-09-2012, 13:33.. Categories:
Celebrity