Paris Hilton. Prisonbreak game
Follow us on Facebook and Youtube: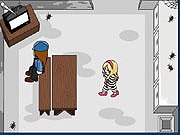 Description: Paris Hilton. Prisonbreak
An exciting online game for girls. Socialite, a lover of glamorous partying Paris Hilton is known for her difficult scandalous nature, which led her again. Once again Paris is locked in the raw terrible prison and she wants to escape, but she can not cope with it alone without your help. You are her best friend and you just have to help her.
How to play the game "Paris Hilton. Prisonbreak"
Surf the jail and collect items, talk to people, open doors, do everything to help Paris to escape. To move use the arrow keys. To make action, press the space bar.
Enjoy the game!
Played: 48780. Added: 19-09-2012, 09:14.. Categories:
Celebrity