Suri Cruise is going to school game
Follow us on Facebook and Youtube: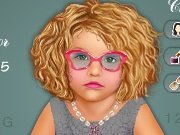 Description: Suri Cruise is going to school
Sheis only 6 years old and she is already a star. You did not recognize who it is? She is the daughter of Tom Cruise! This little girl loves fashion and easy things. She will soon go to school, so she wants it to look like a real celebrity.
How to play:
select simple makeup and hair for the girl. This is a mascara, line girl's eyes, use the lipstick. Do not forget about the beautiful stylish glasses for the girl, and you get a great style for Suri Cruise in this celebrity game!