Aurora Back To School Haul game
Follow us on Facebook and Youtube: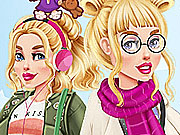 Description: Aurora Back To School Haul
Today Aurora is going to school and would like to shoot great videos for your YouTube channel. And the theme of the videos you have already guessed what. The video will be about how Aurora goes to school, what clothes, what she takes with her and what hairstyle to choose. But of course she needs your help. After all, someone needs to make a video, someone to pick up clothes and jewelry. So let's help to make three excellent image in which Aurora will remove the video. To do this, choose the mouse what the girl will look perfect and create the new snapshot by clicking on the icon at the left.
Girls, what if you play
CuteZee.com
. Categories:
Dress Up
School games