Barbie goes to school game
Follow us on Facebook and Youtube: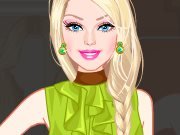 Description: Barbie goes to school
Barbie loves to learn. She goes around that she was interested. Recently, she discovered that she could blog about fashion. It provides an overview of clothing makes little stories and talks about his purchases in the store of clothing and cosmetics. On the eve of the start of the school year, Barbie would like to choose to study at the school for themselves and something to advise something to the readers of the blog. Let's see what outfits chosen for our fashionista.
How to play:
in this dress up, you can choose the fashion beauty hair, dress and jewelry to school. Get the pleasure in creating beautiful dresses for girls. Do you have a few options. Click on the button with a light bulb at the top right and get the inspiration for the game.