Barbie Red Carpet Diva game
Follow us on Facebook and Youtube: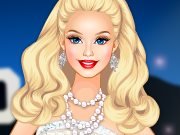 Description: Barbie Red Carpet Diva
Barbie is going to a film festival. She is invited as a honorary guest and jury member. It will be interesting to watch all of her fans and the audience of the festival. This is a very important role. Therefore, our famous blonde is very worried as she should be and what to wear. She picked up a few dresses and hairstyles. But what was she to wear? Maybe a long white dress and bright jewelry? Help Barbie to deal with this complex issue for her. Maybe it will give you a free ticket to the film festival?
How to play:
use the mouse to choose a cool outfit for Barbie, which is going to participate as jury at the film festival. But first, she needed to walk the red carpet in front of the audience and paparazzi. Help her to look spectacular and for the latest fashion trends.