Barbie's date on Valentine's Day game
Follow us on Facebook and Youtube: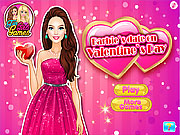 Description: Barbie's date on Valentine's Day
Barbie in a great mood. And all because she was going on a date. But that's not all. Her date will be on Valentine's Day! I think it's a great match and you will be happy to give a few tips about beauty Barbie. Let's see what beautiful dresses and hairstyles have in the wardrobe of girls, and then figure out her best holiday outfit.
Use the mouse to pick up the blonde with the most beautiful dress, hairstyle, and makeup.
By the way, did you know that Barbie's a great cook? Play a
barbi perfect pumkin
game on our website.