Super Barbie Wedding game
Follow us on Facebook and Youtube: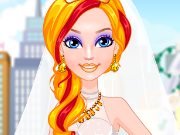 Description: Super Barbie Wedding
Today Super Barbie special day! She's getting married! She finally found someone to live the rest of your life with and will share his super strength. So she is waiting for the moment will become the wife of this man. But she has a problem. She doesn't know how to makeup and hairstyle she should choose. And what dress she should wear? Barbie in a panic and looking for help. Maybe you could help her to understand this?
How to play:
help Super Barbie to choose the best outfit for the most important day in her life. First, start with her face. Select the color of the lipstick and face, and then decorate her eyes. Then enjoy a selection of hairstyles and dresses. Perhaps the most difficult but Barbie will help you.
If you like Barbie game, then try
Barbie cheerleader games
. You will like it. I hope!