Barbie Marilyn Monroe game
Follow us on Facebook and Youtube: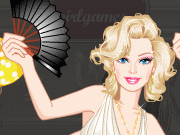 Description: Barbie Marilyn Monroe
Do you know that Barbie and Marilyn Monroe are very similar, aren't they? Just change the hairstyle, dress and add some jewelry and they won't differ. In this game you can dress Barbie up in a variety of outfits that were fashionable and popular in the days when Marilyn Monroe was the style star and standard of beauty.
To play this dressing up game, you will need only your mouse and the ability to pick up the dress , hairstyles, accessories and hairstyles. First, start with the selection of hairstyles , and then pick up a dress for it . And you can do the opposite or look at ideas for the outfit by clicking on the button with a light bulb.
Played: 93726. Added: 17-05-2014, 08:26.
Play other games from this developer:
egirlgames.net
. Categories:
Barbie