Cozy Girls Night In game
Follow us on Facebook and Youtube: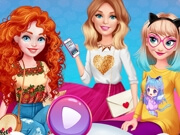 Description: Cozy Girls Night In
Barbie's best friends Elsa and Merida decided to meet and chat. But it turned out that it was so cold outside that the girls quickly froze and went home to Barbie. And then she came up with a great idea! She came up with the idea of ​​playing with a bottle, choosing a fashion style for each of the participants. It was a great idea and the girls supported it. From the beginning, Elsa has dropped the Kawaii style, Merida has pins and patches, and Barbie is the queen of glitz and glamour. Join the girls in this dress up game and see what looks they come up with. After choosing their outfits, the girls decided to have a movie night. To do this, they picked up delicious treats, magazines and, of course, films.
How to play:
Use your finger and mouse to help create a cozy party for the girls on a winter evening. Choose outfits for them in the styles that will drop out for them in the game. Then help arrange a movie night for them by choosing treats, films, and other items.