Robot Girl game
Follow us on Facebook and Youtube: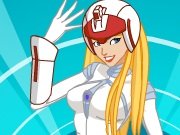 Description: Robot Girl
Beautiful, graceful and strong robot girl. She is valued on the job and allowed you to choose the most beautiful clothes. Look how many bright and stylish things she has. Create a couple of images and offer them toher. What functions do you think she performs at work?
How to play:
you can try on anything from what you find in the closet. Use your mouse to grab and drag things to the girl.