BFF Pink Makeover game
Follow us on Facebook and Youtube: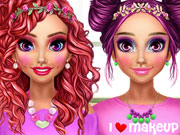 Description: BFF Pink Makeover
All the best friends communicate a lot and spend time together. Sometimes it seems that they live together. These girls have been friends since childhood, and they think they know each other from birth. Therefore, they are very happy to see each other always in any weather and on any occasion. Today they have come up with a choice of each other's makeup and outfit. But especially this is that everything should be pink! Dresses, makeup, hairstyles, jewelry. All pink! It will be cool and beautiful.
In this game you can choose a pink image for each of the friends. Use the mouse and your imagination to make the girls a nice present.