Bffs Fashion Showdown: Barbie Vs Rapunzel game
Follow us on Facebook and Youtube: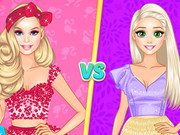 Description: Bffs Fashion Showdown: Barbie Vs Rapunzel
Barbie has always considered herself a better fashionista and she deserves this title. After all, she has a lot of fans and they can confirm it. But what if you compare Barbie to Rapunzel? Both girls look quite impressive and it is difficult to choose the best fashionista among them at once. In addition, they have excellent taste, beautiful figure, luxurious hair and both have a lot of fans. In this dress-up game, you can see how these two popular personalities are going to find out who is the best at fashion.
How to play
: In this game, you can help your favorite star defeat another star. At the beginning of the game, you can choose any of the girls and start choosing makeup, hairstyle, and dresses for her. Then comes the competition phase. Fans will appreciate your result and choose the girl who looks the best.