Back To School Fashion Dolls game
Follow us on Facebook and Youtube: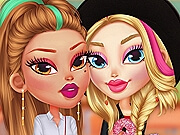 Description: Back To School Fashion Dolls
It's finally time to go to school and fashion dolls are in a hurry to see their friends who have been missed over the summer. These beautiful girls have a lot of ideas on what to wear on the first autumn days and show how cool they have changed for the better. Hurry up to tell the four dolls what to wear to school, but do not overdo it with makeup and too bright clothes. After all, you know how these fashionable dolls love colorful and juicy makeup, as well as jewelry.
In this dress up game, you can create a fashionable look for girls, choose makeup, dresses, and of course, choose cool hairstyles. At the end of the game, you can save the picture and show it to your friends.