TikTok #CargoPants game
Follow us on Facebook and Youtube: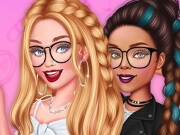 Description: TikTok #CargoPants
The social network TikTok is now incredibly popular, which means that all the looks of modern fashionistas are there. There you will find a lot of cool videos, new memes, as well as favorite stars who are in trend now. The heroines of this dress-up game are also quite popular, and all because they know what is fashionable now and their subscribers appreciate it. Today they have a new video about the new squeak of fashion - cargo pants. They were popular in the 90s and therefore girls have something to see and come up with new looks.
In this game you can choose not only cargo pants, but also makeup, hairstyle and jewelry for each of the fashionistas. Use your imagination and enjoy the pleasant atmosphere of the game.