Princesses Belt Bag Fashion game
Follow us on Facebook and Youtube: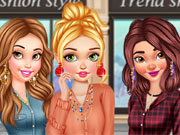 Description: Princesses Belt Bag Fashion
Belt bags are a great idea that princesses really like. After all, you can put them on your waist or shoulder and your hands will be free. With them, you can relax at the festival, dance and have fun, actively relax, or do anything when you have both hands free. In addition, they will not steal it from you and you can put money or a mobile phone in this purse. Today is the day when the princesses decided to prepare for a holiday in crowded places and choose belt bags.
In this dress up game, you can pick up for each of the princesses a new make-up, hairstyle, outfit, and of course a belt bag. Look at what dresses are already in the girls' wardrobe and pick up a bag that will look perfect on the belt of each of the princesses.