Dress up with a mermaid game
Follow us on Facebook and Youtube: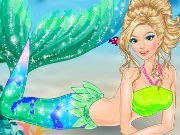 Description: Dress up with a mermaid
Do you know where live mermaids? This lives at the bottom of the deep sea and her mermaid girlfriend's birthday tomorrow. Let's surprise all the guests at the party and choose a modern dress, hairstyle and jewelry for this beautiful mermaid.
Look how many beautiful things have in her wardrobe. I think you will have no difficulties with the Council about what to go girl!
game Controls
as usual with the mouse. Choose with your mouse what you want her to try on and see how to change the beautiful mermaid in this dress!
Played: 59211. Added: 2-10-2015, 00:40.
Play other games from this developer:
GirlsW.com
. Categories:
Dress Up