Princess Trendy Shopaholic game
Follow us on Facebook and Youtube: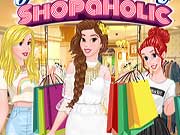 Description: Princess Trendy Shopaholic
So the long-awaited weekend came, and Princess Belle and her friends decided to go shopping and buy everything they needed to be in a fashion trend. Join us to visit the local large fashion store where you can find anything. Of course, the princess is looking for only the best branded outfits. You will see this in the game. In addition to clothes, the princess and her friends want to change their hairstyle and choose a new make-up. And of course she wants to pick up a new summer shoe. Let the girl be stylish and comfortable.