Evil Queen Makeover game
Follow us on Facebook and Youtube: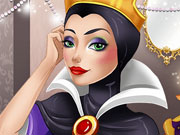 Description: Evil Queen Makeover
Today we will play with the Evil Queen. This
Disney princess
with a frightening view is not going to offend us. Today she would like to ask for your help in choosing a modern and beautiful dress. Maybe she's angry because no one wants to help her? Maybe she's kind of inside and if she pick up the outfit of the modern model, will we get a new star of the intragram? Let's help this interesting person to choose a hairdress, a dress, a make-up and beautiful ornaments. I think that you will have a very interesting image for the new Evil Queen.