Princesses Kawaii Uniforms game
Follow us on Facebook and Youtube: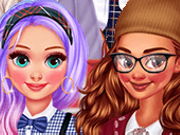 Description: Princesses Kawaii Uniforms
Studying at school is cool and rewarding. You gain new knowledge, make new friends and have fun after class. In this dress up game, princesses also want to enjoy learning. To do this, they go to school in a stylish kawaii school uniform. I think you are familiar with this style of clothing that came to us from Asia. Choose bright, stylish outfits and make each princess unique.