A date with handsome guy game
Follow us on Facebook and Youtube: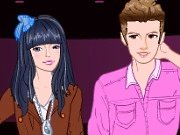 Description: A date with handsome guy
This girl is going to be invited to have a date with the most popular and handsome guy in school. She is confused. She can not make up what to wear on a date.
How to play:
come up with what to wear for a girl on a date. Look what hairstyles are most suitable for the girl. Then choose something from the clothing, handbag and jewelry. Suggest a few options of clothes for a date.